POROS | GREECE   -   29 June - 6 July 2019
---
Poros, a romantic island where you can rest up aswell as join the livelyhood. Especially during the summer months, the boulevard fills up with happy travelers and watersport fanatics. The island is covered in pine- olive- and lemontrees. The pinetrees make it all the way up to the rough coastlines and sandy beaches.
A photographers favourite is the historic belltower, beautifully located on top of the hill. If you want to see the belltower up close, you can climb on top of the hill where you will be rewarded with the sight of pine trees, cacti and figtrees. And the breathtaking view over the city, with it's harbour and many sailing boats, the ferries and the coastline of the Peloponessos.
​All along the coastline you will find many neo-classic buildings. When you're walking through the cities' narrow alleys, you will find little white houses and bougainvilles. In the city-center, which is location on top of a hill, there are many traditional taverns and kafeneions. If you would like to take home some souvenirs, you will find your share of shops, bars, jewelry stores and small boutiques.
If you would like some more information, or get to know us (Ester and her assistant) before hand, feel free to send us a message and we will arrange a phone- or Skypecall.
This JOYFUL trip is guided by Ester de Vos, coach, psychologist and yogi.
Call or email us to sign up for JOYFUL Poros, call: 06-52478247 (also for questions).
Sign up now for: € 895,-
Relax and recharge
A week of hardly any decision making, no groceries that need to be done.. let us take care of you, release tention. Enjoy yourself, enjoy yoga, yummy food, drinks, natures beauty and some lovely people.
Get inspired
Get inspiration from the guides and the other travelers that are all on their journey of movement, happiness, growth, destressing, emotions and relaxed living.
Build up a yoga and mindfulness routine
For an entire week you will have the oppertunity to join two yoga classes per day. Classes in which we'll guide you through mindfulness themes. Because of the small groups (max. 14 pers.) this will be a very personal week in which we will be able to answer all of your questions around yoga. After this trip you will be able to continue with this yoga and mindfulness routine at home.
A gift for yourself!
Spoil yourself with time for yourself: no obligations, lots of possibilities. In this diverse yoga holiday you decide what you want and need.
Included
Our chef will prepare you: (7x) breakfast and five times dinner including (alcoholic) beverages. Lunch is free time, which you can obviously spend at the Odyssey tavern. Two nights you will be free to dine at one of the many Greek taverns in town.
Also:
11 yogaclasses [daily 2 x 1 hour yoga: 1 x flow, 1 x yin]

Two gorgeous hikes;

A stroll through Poros it's historic center;

Seven nights in a room, private or shared;

Bedlinnen, (bath)towels, tourist tax and wifi;

Unlimited acces to the terrain and the cozy indoor areas;

Daily roomservice (environmental rules applied);

All beverages during breakfast, after dinner dranks and dinner (fresh orange juice/coffe/thee/soda/beer/wine).
Excluded
Flight to Athens

Transfer from Athens to Poros (we will help you with the booking)

Lunch (which you can get at the hotel)

2 x dinner

Optional: taxi rides on the island or other transportation


Any non-mentioned activities 



PROGRAM



---
 A new 7-day yoga trip from 29 June - 6 July 2019
SATURDAY arrival
The program starts when all guests have arrived. We will start with welcome- and introduction drinks and setteling into the appartments.
SUNDAY - FRIDAY
Yoga*
08.15 - 9.15
or 12.30 - 13.30
or 17.00 - 18.00
Breakfast 9.30
Free time
(on three of the days you can join a (included) hike or city walk)
Drinks 18.30 - 19.30
Dinner 19.30
(a healthy mediteranian menu)
SATURDAY departure
Breakfast and departure to the airport
* The time of the yoga classes will be decided during breakfast and dinner. Whenever possible the yoga classes will be given outside - this can be of influence of the hours of yoga.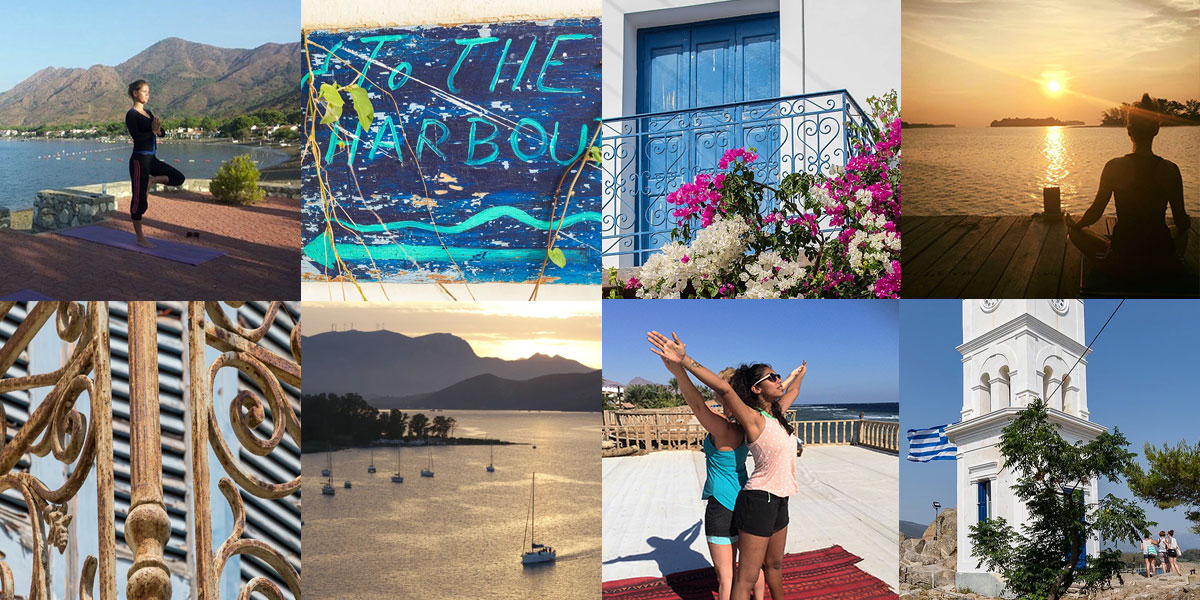 HIGHLIGHTS



---
♦   Yoga and fun, tasty wines are included for whoever likes to join
​
♦   A clear overview of the expenses of this trip, no hidden costs
♦   Over 10 years of experience with (yoga)travels
​
♦   Dutch & English speaking yoga teachers & care from the hotel